Why Choose DreamHire
Our platform offers everything your team needs to hire efficiently and effectively

Automated Applicant Scoring
Our compatibility scoring algorithms show you the best applicants first, saving you time and money.

Lightweight ATS with Collaboration Tools
Easily track all of your applicants and track feedback from colleagues using our lightweight ATS.

Video Interviews
Get to know your candidates better with video interviews, both pre-recorded and live-streaming.
Customizable Application Process
Control what's required on candidate applications, and ask the questions that are most important to you.

Stylish Company Homepage
Show off your team's strong points with a personalized employer homepage, complete with benefits, photos, and videos.

Interview Scheduler and Printable Packets
Quickly schedule and then stay organized with on-site interview packets, which compile everything you need in one go.
---
Applicant Compatibility Scoring
Focus on your Best Candidates
Our machine-learning algorithm automatically scores applicants for you, prioritizing and ranking them by who you are most likely to hire.
We eliminate the need to weed through dozens or hundreds of resumes, so you can focus only on your best few candidates.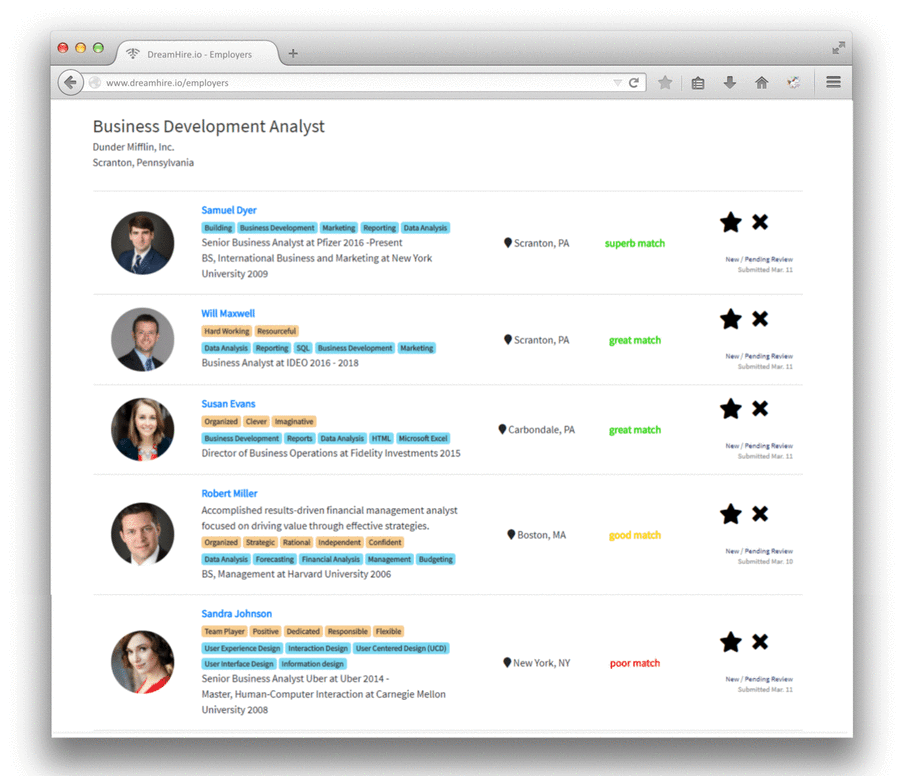 ---
Easy-to-use Collaboration Tools
Hiring is a Team Effort
We know hiring isn't a solo job. You need feedback from everyone involved so that you can make the best decisions.
Use our advanced collaboration tools to get feedback, ratings, and commentary from your colleagues. Highlight and take notes about specific parts of the applicant's resume and application.
These tools make it easy to work with others, including those without DreamHire user accounts.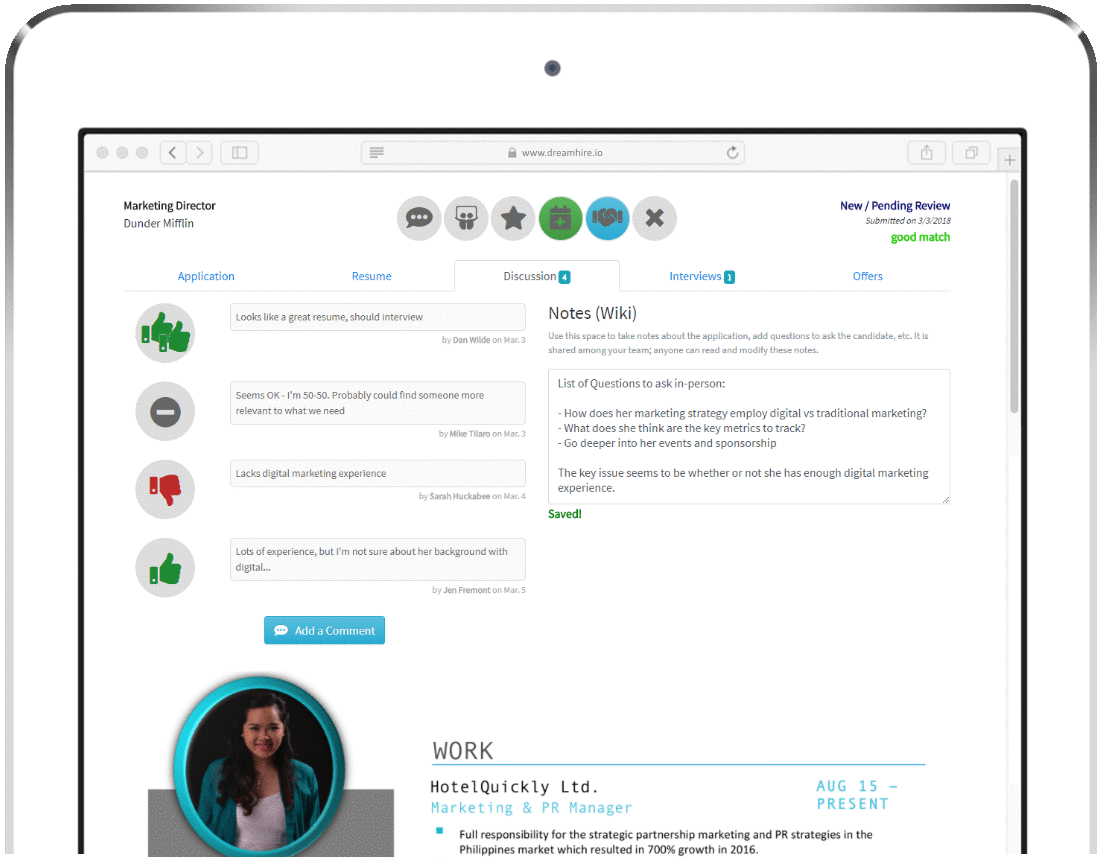 ---
Stylish Company Homepage
Attract Top Talent with Your Story
Candidates want to know what kind of a company they're applying to, and your company page gives you the perfect opportunity to show off.
Share your company story and culture using our easy-to-use editor. You can also showcase professional photos of your office and team, and add video testimonials from your employees.
From startup to Fortune 500, companies of all sizes and industries use DreamHire to hire faster and better. Our product is designed for use directly by hiring managers, but we are happy to support all hiring staff.
Hiring for these roles? We've got you covered.
And more...

---
ENGINEERING

---
SOFTWARE DEVELOPMENT

---
DESIGN, MEDIA & CREATIVES
---
BUSINESS MANAGEMENT
---
ADMINS & ASSISTANTS

---
CUSTOMER SERVICE

---
SALES & MARKETING

---
ACCOUNTING & FINANCE
Want to be matched with top candidates who best fit your needs?
Get Started